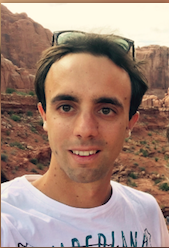 Marco Sartore is a Ph.D. candidate in Italian with a concentration in Comparative Literature and Society from ICLS.
Marco previously studied at the Catholic University of Milan, where he earned both his BA (Laurea Triennale) in Italian Literature and his MA (Laurea Specialistica) in Modern Philology. He graduated cum laude in 2013 with a thesis in History of Italian Philology, investigating the edition of Medieval Italian and Latin texts in some early 19th-century literary periodicals. Before joining Columbia in Fall 2016, Marco earned the Cedils certificate and worked for two years as an Italian language assistant in several elementary and high schools in Australia. At Columbia he earned his second MA in Italian (2017) and his MPhil (2019), and he is currently working toward his PhD degree.
His research interests include 13th- and 14th-century literature, particularly in its connections with Medieval theology and popular devotion, the early lyric tradition, medieval sermon studies, and manuscript studies. He is also interested in the 19th-century exegeses and editions of Medieval texts. His recent publications include some entries for the Dizionario biblico di letteratura italiana and a study on the linguistic and theological debates around some controversial verses in Inferno III. He has also collaborated on the digital project FRIDA (Festivals in Renaissance Italy: Digital Atlas), working on Marin Sanudo's Diarii.
Marco is a member of the Medieval Academy of America, the Dante Society of America, the International Medieval Sermon Studies Society, and the Internationale Gesellschaft für Theologische Mediävistik (International Society for the Study of Medieval Theology).\