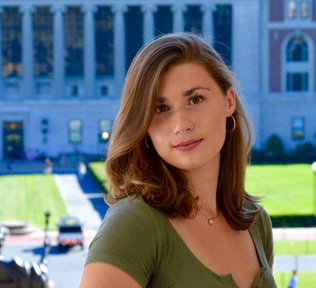 Christina McGrath is a PhD candidate in the Department of Italian and the Institute for Comparative Literature and Society.  Her research interests include Boccaccio, Dante, the courtly lyric, gender, and the application of ethics and moral philosophy within medieval texts.
Since coming to Columbia, Christina has worked on special exhibitions in the Rare Books and Manuscripts Library under the supervision of Prof. Consuelo Dutschke, including an exhibit of a rare leaf from a 14th century manuscript of the Commedia.  She has also dedicated significant time to her pedagogical development, and received certification from the Innovative Teaching Summer Institute, run by the Columbia Center for Teaching and Learning.  She was a Teaching Observation Fellow for the 2017-2018 academic year and, in February 2017, she was selected to receive a scholarship to attend to the Northeastern Conference on the Teaching of Foreign Languages.
Before earning her MA at Columbia in 2017, Christina was an exchange student at the Università degli Studi di Firenze; she received her BA in Italian and Art History from Georgetown University in 2015, graduating magna cum laude.  She has been recognized with various awards, including the Georgetown University Dante Award for excellence in Italian studies, the NIAF Abruzzo Molise Heritage Scholarship, and the Benjamin A. Gilman grant for foreign study.  In 2015, she was selected as an alternate for the Fulbright Scholar Program to Italy, and she was invited to represent the United States at the American pavilion at EXPO Milano.