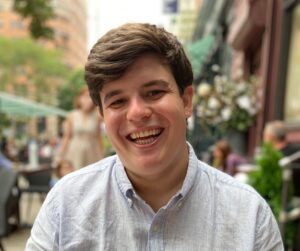 Alex Cuadrado is a 6th year PhD student in the Italian Department and the Institute for Comparative Literature and Society. His dissertation explores how Dante writes a history of religious orders into the Commedia.
Alex was born in Guadalajara, Mexico and grew up in a small mountain town in Colorado. In addition to reading in coffee shops, Alex enjoys skiing and hiking. His interest in Italian began when he lived in Vicenza, Italy for a year in 2010-2011 as a Rotary Youth Exchange Student. In 2016, he graduated summa cum laude from Princeton University with an A.B. in Italian and Certificates in Medieval Studies and Humanistic Studies. His senior thesis, "The Poetics of Pilgrimage in Dante's Commedia," received the Gruppo Esponenti Senior Thesis Prize for the best thesis in Italian as well as the Joseph R. Strayer Prize in Medieval Studies. In 2015, Alex was awarded the Dante Prize from the Dante Society of America.
Alex received an M.A. in Italian from Columbia in 2017. His graduate coursework has spanned many disciplines and time periods, and he has presented his research at regional, national, and international conferences and lectures. He earned an M.Phil. in Italian and Comparative Literature from Columbia in 2019. His research topics for his qualifying exams included Dante and the Church, Petrarch's relationship with a multicultural Mediterranean, and the history of medieval antifraternal satire.
Alex is a member of the Dante Society of America, the American Boccaccio Association, the Medieval Academy of America, and the Modern Language Association. He has taught Italian language for three years at Columbia and and now teaches Literature Humanities in Columbia's Core Curriculum. Alex served two terms as the President of the Arts & Sciences Graduate Council and works as a Senior Writing Consultant at the GSAS Writing Studio.